This is a free WiFi service offered to residents of Sanson Village and visitors by Spinning Planet Limited and Weekend Craft and other local businesses. The service is available at:
The Sanson Playground (Weekend Craft Access Point)
Corner of Fagan and Phillips Streets (Spinning Planet Access Point and Internet Gateway)
Harris Lane Access Point
More coming soon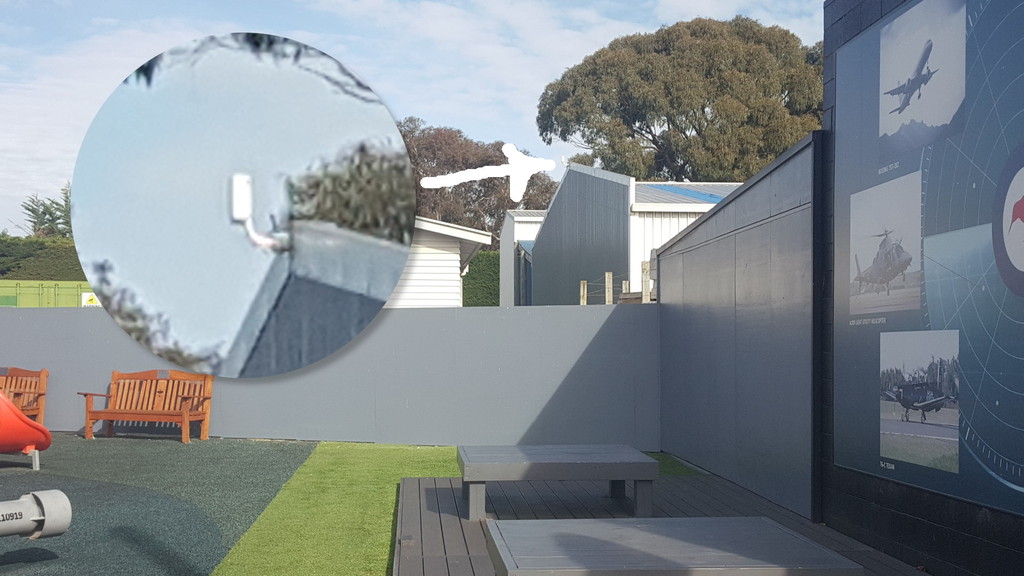 Here's the present coverage map: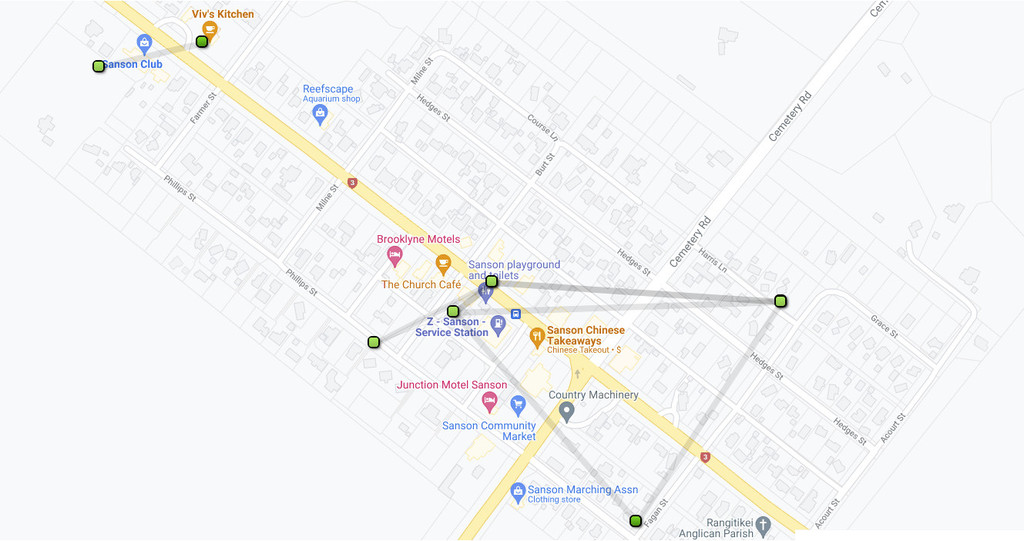 The free wifi is avaiable in the areas above as long as you have direct line-of-sight to a transmitter.
Download speed is restricted to 2 Mbit which is fine for most Internet usage like Facebook, Internet Banking, Gmail and YouTube.
All information on the WiFi network is anonymous and isolated. No one else on the wifi network can access your data so your connection is safe.
Free wifi is available from 5.30AM to Midinight every day.
How to connect
When you're within range, this will pop up on your phone - if it doesn't, go to your Wireless Settings and choose "sanson-free-wifi". A page will display on your phone where you can click "Continue to the Internet". Once clicked you'll have full internet access: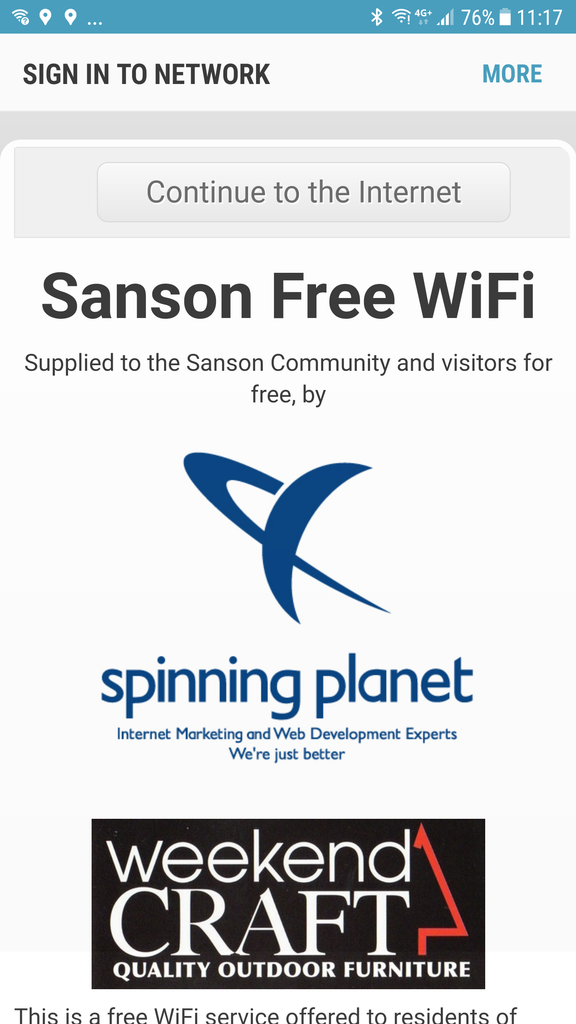 No personal data is collected by this service. Here's an example of our Administration panel that just shows general statistics to help monitor the service. Spinning Planet is an ethical business and respects your privacy and security: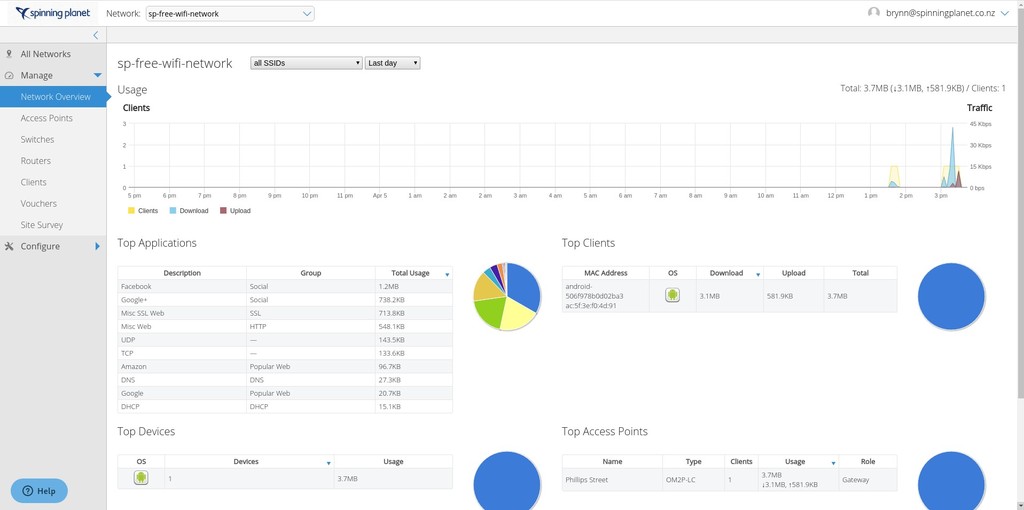 FAMILY SAFETY
IN THE NEWS
Feilding-Rangitikei Herald
interview, August 17th, 2021
Interview with Jesse Mulligan
Radio NZ, August 18th, 2021: 1:40PM
RELIABILITY
There is no guarantee for this service, though, we try to make it as reliable as possible. As we bring on new Access Points with antennas mounted on Businesses and Homes there may be interuptions of not more than an hour.
Apprentice
This project is an extention of what David Pickles started in 2005 and was taken over by Brynn Neilson in 2015. Eventually, someone will have to take over from Brynn. If you'd like to help out and learn how the system works. Please contact us.
Development
New AP will be installed, after recent Covid Lockdown, to the back of the building behind Streetwise Coffee Cart to supply internet access to houses on Hedges Street
Working on new solar powered units to make AP installs quicker
Presently liaisng with Education New Zealand to give schools access to thier resources at non-restricted speeds
Again, none of this is done for profit. I do it because I think it should be done, and eveyone should have Internet access. Please be patient. I'm presently building and funding it myself.
community Coverage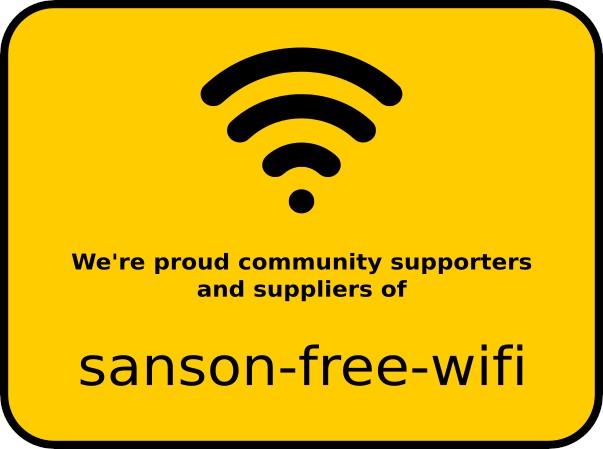 In a time of international upheaval and national crisis, the Sanson Community WiFi project (sanson-free-wifi) has been a good news story. Our small town has come together to support one another and that has inspired others during a difficult time. We've been featured in the national news because we collaborated to achieve something positive for our community:
TV3's, The Project:
https://tinyurl.com/usaamzew
Radio NZ:
https://tinyurl.com/5x42ve2r
Feilding-Rangitikei Herald:
https://tinyurl.com/b8nktepc
What we've done so far is amazing, but we want to expand WiFi coverage to include everyone in our rural community. To achieve this we ask others with an Internet connection to temporarily host one of our Sanson Community WiFi devices in their home or business, which we will supply free of charge.
Volunteers hosting a device provide a valuable service to our neighbours and the children in our community who rely upon prepay Internet on their mobile devices. The cost to any volunteer will be a minuscule amount of electricity and Internet bandwidth - you won't notice any difference.
Our small town is in the news because we care about each other, because we are a community sharing where we can for the benefit of all of us. If you have an Internet connection and you're willing to donate a small proportion of it to our community project please, let us know.
If you have any questions, please contact:
To find out how Sanson Free WiFi came about, check out the sanson.net About page here: https://www.sanson.net.nz/about-us