Address: 2 Dundas Road Sanson
Email: thesansonclub@gmail.com
Facebook: www.facebook.com/thesansonclub
YouTube: www.youtube.com/channel/UCg2xxb8EeiWFL5YJKbg5fYg
Sanson Club Rules: www.sanson.net.nz/sanson-club-rules
Executive meetings: The first Thursday of each month at 6PM at the club.

Hours:
Friday: 5PM till Closing
Saturday: 5PM till Closing
Sunday: 5PM till Closing
About
The Sanson Club is our local venue for bar, music, conferences and weddings that is run by members for our community. It's a great place to meet the locals and have a great time. Visitors are welcome.
Benefits of Membership
You, and your guests, can visit our Club on Friday - Sunday from 5PM
You can also visit any other NZ registered Club or RSA in New Zealand
Have your events at our Club such as weddings, conferences or birthdays at very little cost
Free use of Pool Table
Happy Hours: Friday (6-7PM), Saturday (5-6PM), Sunday (5-6PM)
Access to Sanson Club Functions such as Gigs, Comedy night, Xmas Party, Karaoke, etc.
Cheapest Clubs/RSA Membership in New Zealand
Free WiFi
Big screen TV and PA Sound System
Handle Club members get their own handle
How Things Began
A brief outline of our History.
From Shirley Pickles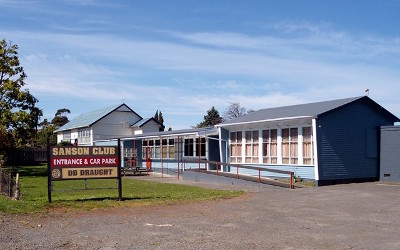 In the beginning, Lloyd and Lola Butcher, in 1975, were the publicans at the Junction Hotel Sanson. We formed the Sanson Social Club under their patronage, taking over the Assets of the Darts Club, which had been in recess for a number of years.
Our aim was to form Darts, Pool, Cricket events, with our own and members from other places - to organize trips, Gala days and Christmas parties for adults and children. They were the good days and we had a lot of fun - then Lion Breweries bought the Hotel and put in a succession of Managers - these were also good times with them being involved with us. The club also had a good relationship with the local community. For many years we held a Housie licence, which we used, not for our own income but for the School, Play centre, Plunket and the like. Donations were made to the school also.
In 1986 the Brewery started to lease out the Hotel. Arthur and Penny from recollection were the first and we had a great relationship with them. Later publicans were not so interested in the Club members or even the locals, being more interested in the Truckies. A few of us decided we would form our own Club away from the Hotel which we did, using Naomi & Ron Jensen's Pool room.
We had quite a reasonable following even though our facilities were basic with the Beer kegs kept in an old fridge. David Pickles, Barry Coombs and George Olson were our operators. We decided to look for a more permanent place to use. Suddenly, At this stage, word was about, there was a new publican coming. Well this had to be good news, which for a time it was. At this stage we shelved our ambitions of trying to get our own premises.
The interests and fortunes of the Club at the Hotel, waxed and waned until August 1987 when we went into recess-reactivating the following year with the Publicans encouragement, saying they would be more active and supportive. I think the Pokies were installed about this time, which club members and locals patronised well.
Relations with the Publican deteriorated because they expected us to organize games etc., and to pay for the Shouts and suppers from our income, which we derived from Raffles and small membership fees.
In 1990 Lil Webb introduced Club 200 or 250 Membership Draw, which we have to this day. This proved immensely popular bringing more people to the Hotel on Friday nights.
In March 91, we made a request to the Publicans for $5000. from Pub Charity to enable us to buy uniforms with the Hotels name advertised -We were turned down.
Relations took a further tumble.
Imagine our feelings one Saturday night when we were at the Hotel and in came a large contingent of Soccer players from Wanganui wearing -you guessed it,
Jackets with Junction Hotel, Sanson emblazoned upon them. Later we saw a newspaper article thanking our publican for a $20,000 donation from Pub Charity to a school in Wanganui. We were extremely hurt and resentful, feeling this was local money which should have been used here and not given out of the area.
This was the final straw and a boycott was organized to take place one April Friday night at 9 o'clock. We did this and relocated in the Supper room at the Sanson Hall.
Barry Bishop was determined that this time we would succeed in forming our own Club in our own premises. He set our sights much higher though with his vision of us becoming part of the Chartered club Assoc., We were accepted into this Nov 1991 - negotiations were started with MDC for lease of the old school. Barry was the chief motivator and with help from Lil and Florry spent 18 months going through all the legal and council requirements - not easy. We were extremely lucky to get the services of Simon Murfitt, lawyer from Feilding. He did a magnificent job and to this day, I don't think he ever charged us anything.
Whilst all this was going on in the background, the Club operated up at the hall. Our Inaugural meeting on 24th May 1992. This was good fun but extremely hard work, taking everything including ours and Pat and Florries pool tables up there on Sundays and then having to bring them back on Monday. There must have been more hours in a day back then. We operated firstly on a BYO system, later lucky to be able to use Mere Rurakuras Managers licence until Barry and myself obtained ours.
Our negotiations with MDC for lease of this building came to fruition August 1992.
The place had been vandalized and was indescribably dirty, filthy, broken glass and you name it, it was here. A lot of dedicated volunteers worked extremely hard just to clean & re Jib all interior walls, before getting down to the building of the Bar and decorations done, which looked wonderful at the time of completion. Not everyone was visible at this stage but a lot of people were busy in the background getting things organized.
We opened here in these premises 10th December, 1992.
Four couples borrowed $30,000. to enable the Club to get started. In alphabetical order Barry/Heather Bishop, Lloyd/Lola Butcher, David/Shirley Pickles, Pat/Florrie Smith. We paid back this loan in 3 years. Membership was set at $50.00 j. fee and yearly sub $25.00 - a lot less than currently.
I would like to thank Heather Bishop who was extremely generous in letting Barry spend so much time on the interests of the Club, she having to do a lot of work on the farm that he normally would have done
I can only thank Barry for his fervour, vision and dedication for which he was awarded Life time Honorary membership. We were, under his leadership and guidance a very respected, professional and businesslike Club. I feel sure that the Club will continue with his vision in mind